On August 19, 2018, the OpenEarth® Community (OEC) hosted its very first OEC Developer Summit and hackathon event in Houston. The two-day event, which took place at the Marriott Marquis, was attended by over 300 participants representing 40 countries and 136 unique companies.
The OEC Developer Summit – dedicated to developers, software engineers, architects, and data scientists – featured hackathon sponsored by Amazon Web Services (AWS) on the first day, followed by sessions led by thought leaders in oil and gas (O&G) technology on the following day.
The Summit kicked off on August 19, with over 40 attendees competing and participating in the hackathon challenge, with a diverse selection of projects based on subsurface science, machine learning (ML), and the Internet of Things (IoT). This event presented an exciting opportunity for contestants to experience the accelerated pace of innovation by building on OEC.
On August 20, the Summit featured a morning of keynote presentations focused on digitalization and rapid innovation through an open-access platform with a developer's mindset. Keynote speakers included Bettina Bachmann, vice president, subsurface and wells software, for Shell; Philip Potloff, head of enterprise strategy for AWS; Shanker Trivedi, senior vice president of enterprise business for NVIDIA; Susanna Sabbagh, vice president, digital solutions for Halliburton; and Sophie Zurquiyah, CEO of CGG.
The keynote presentations highlighted themes related to implementing digital exploration and production (E&P) and cost-effective operations.
The afternoon breakout sessions offered a variety of technical tracks on IoT, artificial intelligence (AI), ML, big data, real time automation and subsurface science, as well as a very popular track dedicated to OEC contributions. Led by OEC members and technology leaders, these sessions covered O&G topics, including how building on OEC helps accelerate and improve end-user consumption in a collaborative environment. Through these sessions, attendees gained insights into open-access software tools and capabilities in the era of digital transformation.
This successful Summit culminated with an awards ceremony celebrating the three winners of the hackathon: Fabian Vera, a reservoir engineer at CDEUS, who developed a project for applying blockchain to federal models; Lian Jiang, a Ph.D. candidate at the University of Houston, who developed a project in facies classification with machine learning; and Yashas Saidutta, a student from Georgia Institute of Technology, who developed a project in path prediction using recurrent neural networks. The evening ended with a reception sponsored by AWS, where we acknowledged the large presence of software engineers and developers from a wide range of companies in the E&P industry. This Summit is the only event of its kind that offers unlimited opportunities for developers to build on OEC.
OpenEarth® Community Announces Hackathon Winners
The OpenEarth® Community (OEC) Developer Summit hackathon challenge provided an open-access development environment, as well as a collaborative coding experience for participants with the goal of accelerating the pace of innovation for exploration and production software technologies. More than 40 participants, made up of software developers, engineers, and data scientists, worked on the OEC cloud environment involving subsurface science, machine learning (ML), and the Internet of Things (IoT)
"The mission of the hackathon was to give participants the opportunity to explore challenges in a collaborative environment and to learn more about the open-access benefits of the OpenEarth Community," says Michael Jones – senior director of strategy, mergers and acquisitions (M&A), and partnerships at Halliburton Landmark – who worked with 13 other founding OEC members across the O&G industry to form the OEC.
"I learned about the hackathon through LinkedIn. This event was a great opportunity to collaborate with others, including Les Ruthven, senior staff systems analyst at Shell International E&P. The OEC environment enabled me to reduce my computing time drastically on my intensive code project", said Lian Jiang, a University of Houston graduate student and a hackathon winner.
Fabian Vera, a reservoir engineer at CDEUS in Houston, and also a hackathon winner, said, "The OEC Developer Summit and hackathon was a resourceful and insightful event that pushed me beyond what I could normally do and allowed me to innovate solutions for the industry of today and tomorrow."
Hackathon participants (including employees of both large and small companies, along with graduate students) presented their findings the next day to an audience of industry leaders, peers, and mentors.
The 2018 OpenEarth Community hackathon winners were selected based on demonstrating the most innovative thinking. The winners were:
Reservoir engineer at CDEUS
Ph.D. candidate at the University of Houston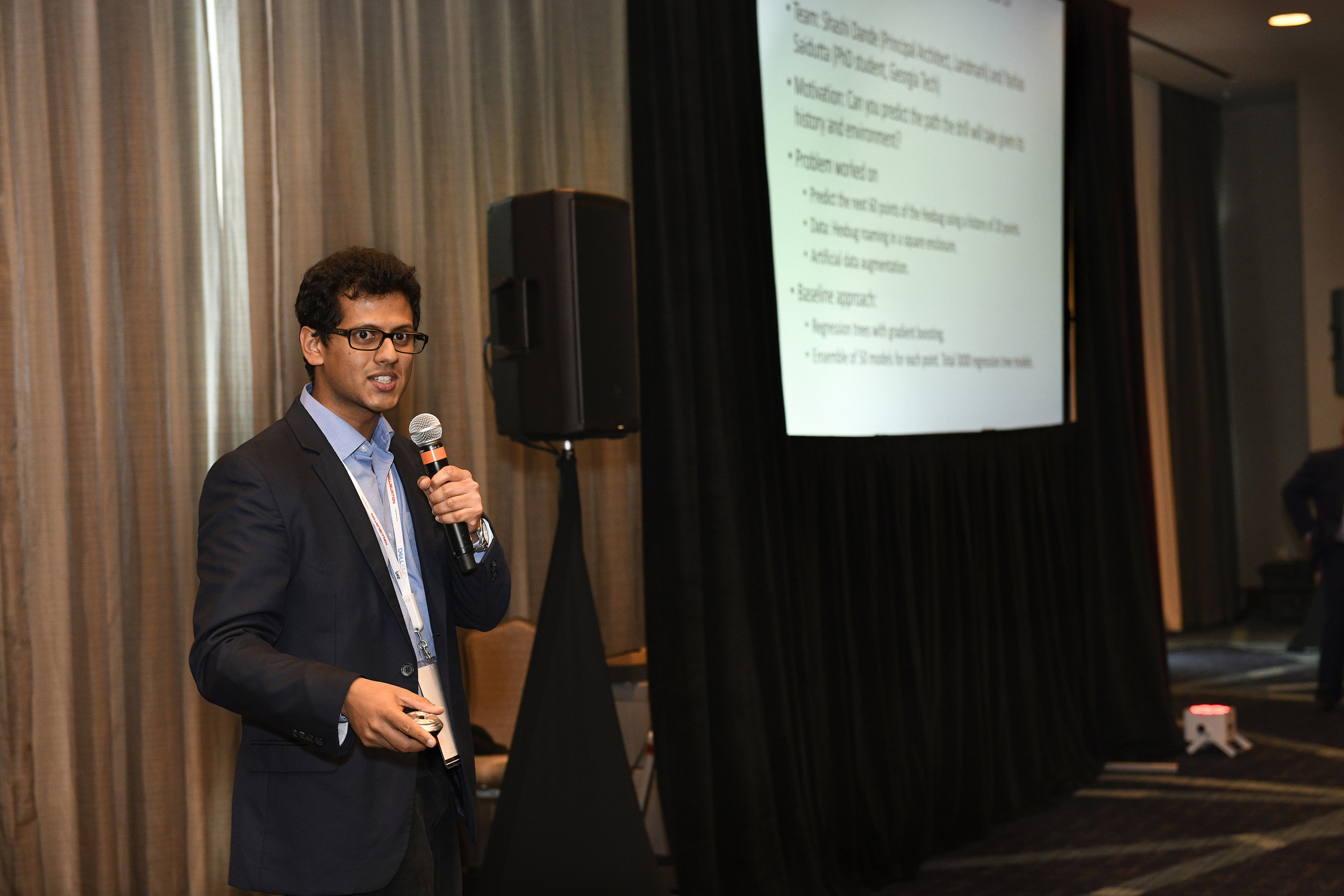 Student at the Georgia Tech Institute
To learn more about this open community of scientists, engineers and software developers in oil and gas companies, all working together to accelerate digital innovation while also lowering its costs, visit https://openearth.community.